Hello strangers!
Sorry for my absence; having a full time job is taking its toll!
For those who didn't know, I'm now an E-Commerce Assistant at
Flannels Fashion
and loving it!
I've even been able to help out with their
blog
and write a few bits myself.
Here's
the latest one I wrote.
So yeah, working 9-5 has been so nice after 3am starts in my stint at the airport. I never thought I was a 9-5 sort of girl but it seems that I am- must be growing up!
I haven't had time to do much shopping and mooching around at places of interest, hence not a lot to blog about...
However I thought today I'd share this cool Levi's T shirt I picked up at my local Oxfam for £5.99- yeah I know, Oxfam is extortionate! But I'd have paid a tenner in a vintage shop so not too horrific.
Tshirt: £5.99, Oxfam; Earrings: 50p, car boot sale; Inverted Cross Necklace: ASOS; Boots: Kurt Geiger
It's a men's medium which is what I like in these sorts of T shirts. Rather than hacking the sleeves off as I normally would, I just rolled them up- it
is
winter and all.
P.S. I've been messing around with Photoshop if that wasn't already obvious. It's also pretty clear I'm not great at it! I'm trying to teach myself how to edit photos to look like they're taken with a
Lomo
camera. they're coming out a bit dark so will have to work on that (the T shirt is old and faded out to a grey colour by the way).
The boots I'm wearing are an early Christmas present from the boyf.
I actually chose them myself! They're from
Kurt Geiger
. I was going to buy them then my boyf divulged that he was intending to buy me a pair for Christmas anyway so it made sense to just get them for me.
I've been wearing them already because I desperately needed something substantial on my feet to fight the awful, wet weather conditions.
I wanted something that was my style, yet was smart enough to wear for work so these flat chelsea boots fit the bill perfectly.
I absolutely love the series- I think even more than I loved the film. Though for me, the first series was slightly better.
One thing that never changes though is the amazing styling. Lol is up there with my biggest style icons.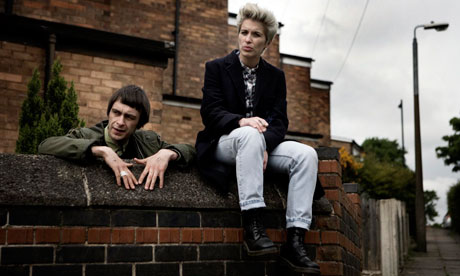 What did you think of '88?
Foxy
x