Hello!
I don't know about anyone else but I'm thoroughly sick of the weather in the UK! I swear it decides to snow whenever I want to do anything. Despite the plummeting temperatures, last week I decided to do a quick summery DIY to cheer up the miserable day!
I remember being completely taken by the 3D flower sunglasses from
A-Morir
last summer; they're so beautiful and perfect for festivals.
The A-Morir 'Phillips' and 'Cass' styles: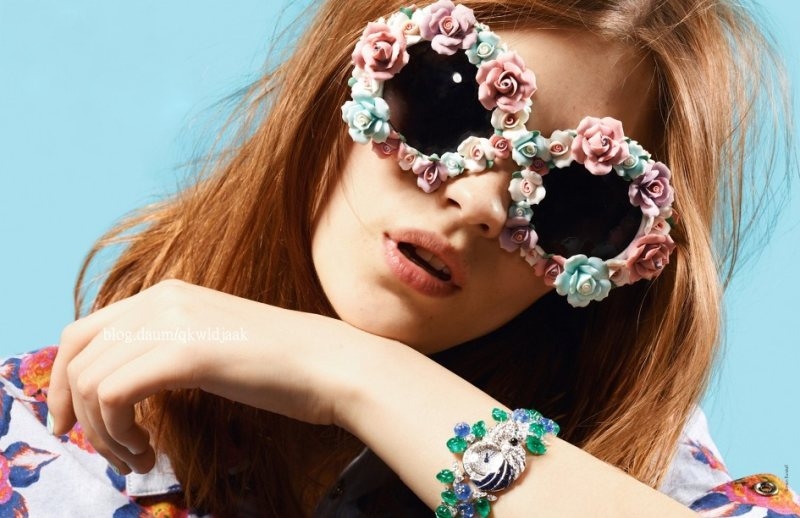 These styles will set you back around £200-300. They're handmade to order and I'm sure are worth every penny, though at that price, they'd cost around the same as the holiday itself for me!
Taking inspiration from these, I thought I'd have a go at making my own.
First, you'll need a cheap pair of sunglasses.
I bought a couple of wayfarer styles from Primark- can't a wrong for £1 a pair.
You'll also need some 3D plastic flowers with a flat base.
You should be able to find some in any good craft/bead/jewellery making shop. I got mine from a
bead shop in Affleck's Palace
, Northern Quarter, Manchester- also my go to place for cool charms for jewellery making! The have an online shop too,
here
.
Pretty handily, they had some strips of three linked flowers in various colours which saved a lot of time and effort. A three-link flower was 50p a piece.
Then simply glue your chosen flowers to the specs wherever you like. I simply added a strip of three to either side at the top, but you could go all out and add single pieces all around the rim.
(I used Loctite superglue if anyone needs a good glue recommendation. I've found it to be the best I've come across for this sort of thing)
And voila!
Total cost £2 a pair! What do you think?
I think these make a great alternative to a flower crown, don't you?
Have you come across any cool summer DIYs lately?
Love,
Foxy x